Stephan Goericke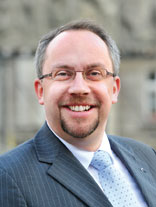 Stephan Goericke studied law in Bonn and Potsdam. After joining the iSQI GmbH in February 2005, back then Goericke was in charge of the conferences department and responsible for the organization of the third World Congress for Software Quality. Since 1 June 2005 Stephan Goericke is Director of the ASQF non-profit organization and of the International Software Quality Institute. Additionally he performs various functions in national and international organizations and projects, e.g.: ISTQB – Working Party Member; EuroSPI – Marketing Chair; Chair of Organizing Committee CONQUEST & International Spice Days; iNTACS and INTCCM Working Party Member.
In July 2007 Goericke became vice chairman of the non-profit organization Security and Safety made in Berlin-Brandenburg (SeSamBB e.V.) and was asked to head the skilled personnel-qualification workshop of the German European Security Association (GESA e.V.). Since 2009 he is also ECQA (European Certification & Qualification Association) executive board member and European representative for the 5th World Congress for Software Quality in 2011 in Beijing, China.
Goericke is editor of the "Scientific Series on Software Quality" and the "CONQUEST Conference Proceedings". He is a sought-after keynote speaker on the subjects standardization, certification as well as software quality and in the past two years has held talks on these topics on five continents – among others at the 4WCSQ (USA), Test2008 (India), PLATO (Europe), EuroSPI (Europe), Central & Eastern Europe Outsourcing Summit (Europe), ANZTB Test 2009 (Australia). Furthermore, Goericke is the father of the "QAMP – Quality Assurance Management Professional" certificate which was awarded at CeBIT 2009.
Memberships
Vice Chairman of the non-profit organization Security and Safety made in Berlin-Brandenburg (SeSamBB e.V.)
German-European-Security Ass. (GESA) - Head of WP Qualification
Head of the working party for further education IT-DIALOG BRANDENBURG
European Organization for Quality Software Group (EOQ-SG) - General Secretary
International Software Testing Qualifications Board (ISTQB) - Working Party Member
Member of the Ukrainian Software Testing Qualifications Boards
Working Party Member of International Assessor Certification Scheme (iNTACS) and International Certification of Configuration Management Association (iNTCCM)
EuroSPI - Marketing Chair
CONQUEST and International Spice Days - Chair of Organizing Committee
Publications, Speeches
Publisher "Schriftenreihe zur Software-Qualität" (Scientific Series on Software Quality)
Publisher "Software Quality in Service-Oriented Architectures", Berlin 2006
Publisher"EURO SPI Industrial Proceedings", Potsdam 2007
Publisher "Business Process Engineering", Heidelberg 2007
(Keynote) Speaker at
PLATO Conference, Budapest
EQN-Conference, Krems
Central & Eastern Europe Outsourcing Summit, Kiev
Annual Conference for Testing Professionals, Riga
4. World Congress Software Quality, Bethesda/Washington
Test 2008, New Delhi
Belgium Testing Day, Brussels
ANZTB Test Conference, Sydney